2021 Programs
January
CWC Conversations – Adjust, Pivot and Reset – Insights from Local Nonprofit Leaders (and CWC Members)
CWC members had an enlightening and informative conversation with fellow CWC members Mary-Jane Foster, President and CEO of Interval House, and Bridget Quinn-Carey, President & CEO of the Hartford Public Library. Mary-Jane and Bridget have been leading these essential organizations through the pandemic, focusing on how to keep serving those who depend on their services. They talked about the challenges they face, how they've adapted to keep serving their clients and even the opportunities the pandemic has created.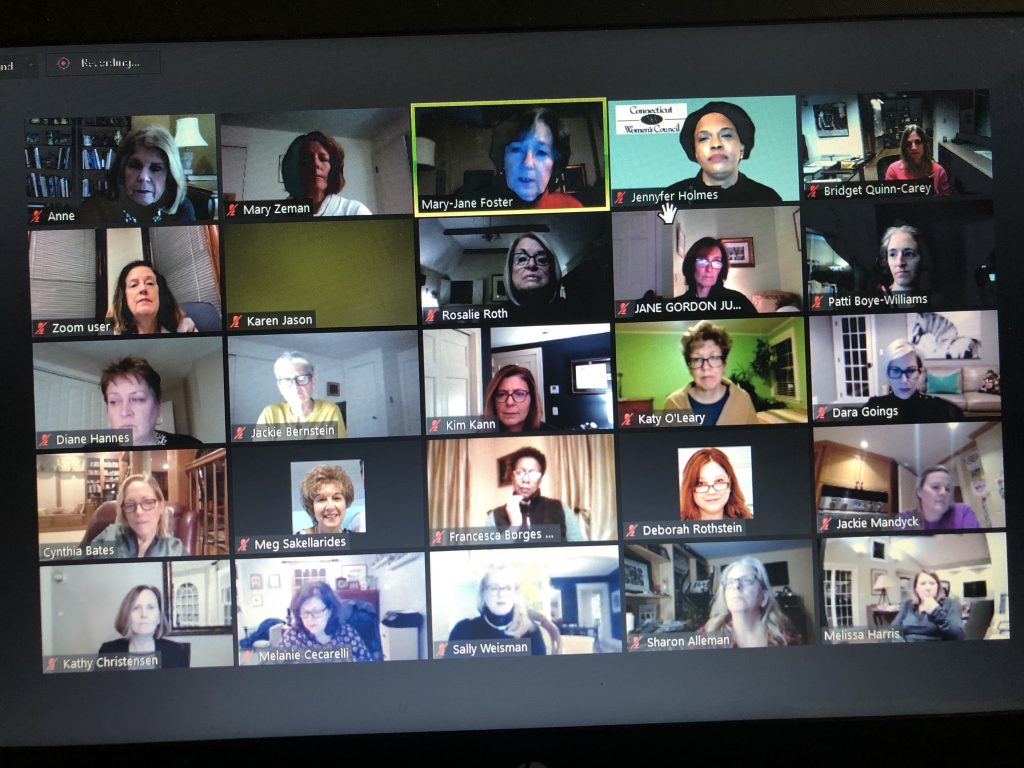 The conversation was moderated by CWC Board member Jennyfer Holmes, the Senior Scholarship and Development Officer at the Hartford Foundation for Public Giving.
CWC Conversations is a program series started in 2019 as a member-focused program that lets us gather to talk informally about an interesting or hot topic.
**********************************************************************************
February
CWC Game Night – Bingo
We have enjoyed our last two game nights with Jeopardy. This time – Bingo, one of the most popular online games right now. Join us for a few rounds of Bingo and lively conversation.

CWC Tea Tasting
Drinking tea has many health benefits, and no matter what the season, tea is a tasty beverage that can be served hot or cold. Join us for a private virtual tasting with CWC members as we sample three different teas that are helpful with stress relief and mindfulness. The tea tasting will be done by Kasia Lindeberg, owner of Open Door Tea in Stratford. While steeping teas, Kasia will discuss brewing techniques, health benefits, tips on storing, blending, mindfulness, and everything else surrounding the world of tea and answer any questions you have.

**********************************************************************************
March
Capitol Happenings – Conversation with Powerful Women in Public Service
With last year's legislative session abbreviated due to the pandemic, the state Legislature has a full agenda of substantive issues to tackle in 2021, including legalized marijuana, sports betting gambling, and tax equity. Join us for a lively one-hour virtual conversation with two female legislators who are members of the Bipartisan Women's Caucus. We are so excited and fortunate that Lieutenant Governor Susan Bysiewicz has agreed to be our moderator. We look forward to welcoming the lieutenant governor, Rep. Dorinda Borer (D-West Haven), the Women's Caucus co-chair, and caucus member Christie Carpino (R-Cromwell/Portland) for a dialogue on the issues facing the state, on the workings of the Caucus (the legislature's largest caucus) and on life as a female elected official. We will have time in the session for your questions as well.
Our Guests
Representative Dorinda Borer (D) is the co-chair of the Women's Caucus and represents West Haven's 115th district. She is serving her second term and has been appointed House Chair of the Veterans Affairs Committee and is a member of the Environment and Public Health Committees.
Representative Christie Carpino (R) is a member of the Women's Caucus and represents the 32nd district of Cromwell and Portland. She is serving her sixth term and serves as House Republican Caucus Chair, and as a member of the Regulations Review, Government Administration and Elections, Public Health and Legislative Management Committees. Rep. Carpino also serves as the state's representative to Women in Government, a national non-profit, non-partisan organization of women state legislators that provides leadership opportunities, expert forums, and educational resources to address and resolve complex public policy issues to all women state legislators across the country.
Lt. Governor Susan Bysiewicz has a long history of public service in Connecticut. A lawyer by training, she served a state representative from Middletown, Middlefield and Durham before serving as Secretary of State from 1999-2011. She is serving her first term as Connecticut's 109th Lieutenant Governor.

CWC Conversations: Understanding and Addressing Food Insecurity
CWC member Katie Martin PhD, the Executive Director of the Institute for Hunger Research & Solutions at the newly merged Foodshare/CT Food Bank organization, was the panelist for this CWC Conversation. Already a chronic challenge, food insecurity was dramatically exacerbated by the pandemic, as seen in the long food distribution lines at Rentschler Field locally and across the US. Katie will address her organization's work to respond to food insecurity here and the strategic approaches she advocates to end hunger nationally. The conversation was moderated by CWC Board member and Programs co-chair Laura Post, who is a nonprofit consultant for Fio Partners LLC.
CWC Conversations is a program series started in 2019 as a member-focused program that lets us gather to talk informally about an interesting or hot topic.
************************************************************************
April
Meet CWC's Newest Members
In the past 12 months, the majority of CWC programs has been via Zoom, a valuable platform that has kept us connected. New and current members met in small groups, enjoyed a few icebreakers, and made plans to see each other in person at future programs.
************************************************************************
May
CWC @Trivia Tuesday
Warmer weather arrived, and CWC headed outside! It was a fun evening of trivia with delicious food and a little competition at J Restaurant, who creatively transformed their parking lot into an outdoor dining area with gazebos and shipping containers.

Voices on Sustainability: A Conversation with Local Leaders
In 2018, CWC started a sustainability series to update members on local and national initiatives. In 2021, we began with updates from three local leaders who talked about the progress that has been made in the last few years, the continued urgency to do more, and how local communities are working together on environmental stewardship to advance the region's economy, improve public health and quality of life, and promote social equity.

Our Speakers:
Katherine Bruns – Recycling Coordinator, Town of West Hartford
Shubhada Kambli – Sustainability Coordinator, City of Hartford
Herb Virgo – Executive Director, Keney Park Sustainability Project (KPSP)
We began the program with a tour of KPSP, which provides hands-on training, educational outreach and community collaborations that help families become more self-sustainable and environmentally conscious. After the tour, there was a conversation with our speakers moderated by CWC board member Patti Boye-Williams. Patti, a former member of the Farmington Town Council, is chair of Farmington's Green Efforts Committee. We finished the evening with an outdoor reception at The Tavern at Keney Park.
**********************************************************************
July
Exploring Indoor & Outdoor Exhibits at the Wadsworth Atheneum
As museums began to expand their hours, we were happy to arrange a docent-led tour to explore two exhibits, both with Connecticut roots. Following the hour-long tour, the group gathered for an outdoor reception at Salute. The tours viewed:
Leonardo Drew: Two Projects
Raised in Bridgeport, and now residing in Brooklyn, artist Leonardo Drew responds to a longstanding fascination with the life cycle of material decomposition and transformation in his work. In this two-part project, Drew has planned a site-specific installation—an expansive sculptural work the artist refers to as an "explosion"—for the museum's Main Street lobby, and an outdoor, interactive sculptural landscape spanning the museum's front lawn. Read more about the exhibit here.
Milton Avery: The Connecticut Years
This exhibition presents an intimate look at the formative years of the modernist painter Milton Avery (American, 1885–1965). Beginning in Hartford in the 1910s and 1920s, Avery forged a staunchly independent path as an artist for more than half a century. Two dozen sketches, watercolors, and oils illustrate his early interest in depicting landscapes, which he continued to do throughout his career. Highlights of the show also include rarely seen works from Avery's summer stay in Collinsville, CT, in 1930. Read more about the exhibit here.
************************************************************************
September
CWC Annual Member Lunch
The Tavern @Keney Park
Our Annual Member Appreciation Lunch is a fun way to celebrate our members and the continued success of the Connecticut Women's Council. This year we headed back to enjoy the beautiful outdoors at The Tavern at Keney Park Golf Course. Keney Park is the largest park within Hartford's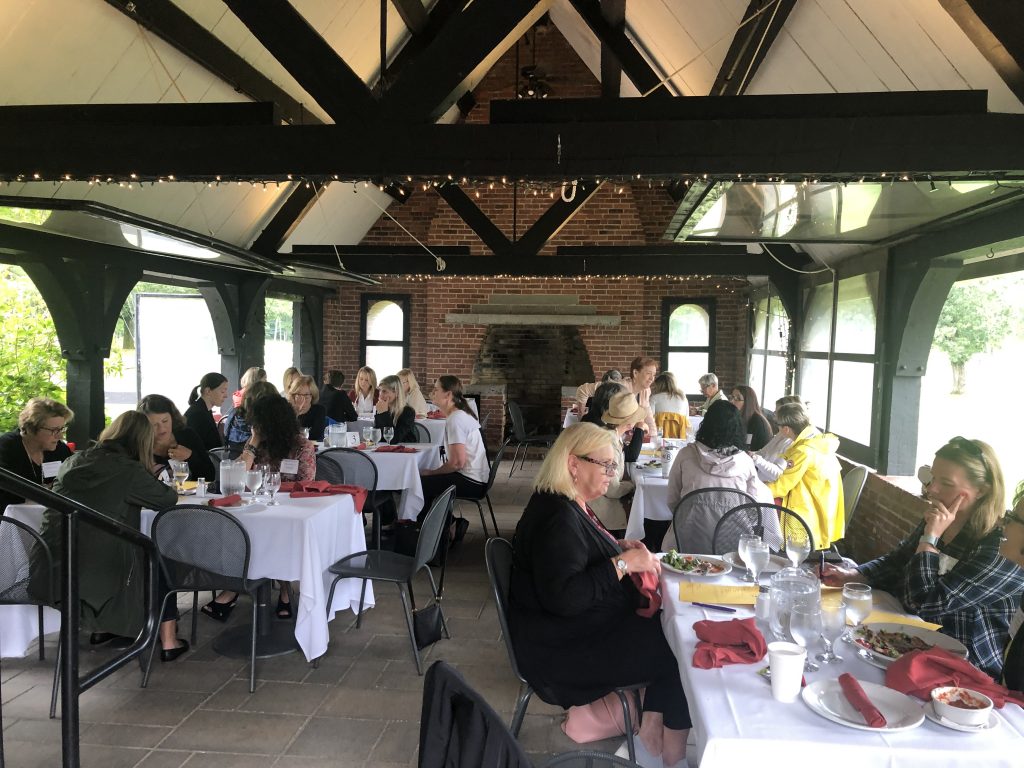 Park system, and the golf course is a true gem. After a $6 million dollar renovation returning it to its former glory, it continues to receive accolades, with the most recent being named as one of the 8 most affordable and challenging courses in the northeast by Golf Magazine.
This is a casual affair, a time to get to know other members. We started with a brief informal speaking program and ended, of course, with our crowd-pleasing trivia contest!
************************************************************************
October
CWC at Brignole Vineyards
Last summer, CWC members enjoyed a vineyard in South Glastonbury. This fall, we hit Brignole Vineyards, located in the heart of East Granby. Established near the town's center, this family-owned business sits on 15 acres and is a hub for local wine lovers, with their newly built winery and very popular wines. We met up in their tasting room, where tables are spaced apart to ensure social distancing.
This was a casual event, with no formal speaking program. We know members like the opportunity to get to know other members and what better way than after work with food and beverages.

************************************************************************
November
Connecticut is in the Cannabis Business
On July 1, after years of debate, Connecticut became the 19th state that legalized the sale and cultivation of recreational marijuana for adults over the age of 21. The legislation establishes the framework for a recreational marijuana market. We had a distinguished group of panelists to review several of the key pieces to this law:

Michelle Seagull, Commissioner, Department of Consumer Protection. Michelle's department oversees the implementation of this law and will give us an overview of the key components. Michelle is also a CWC board member.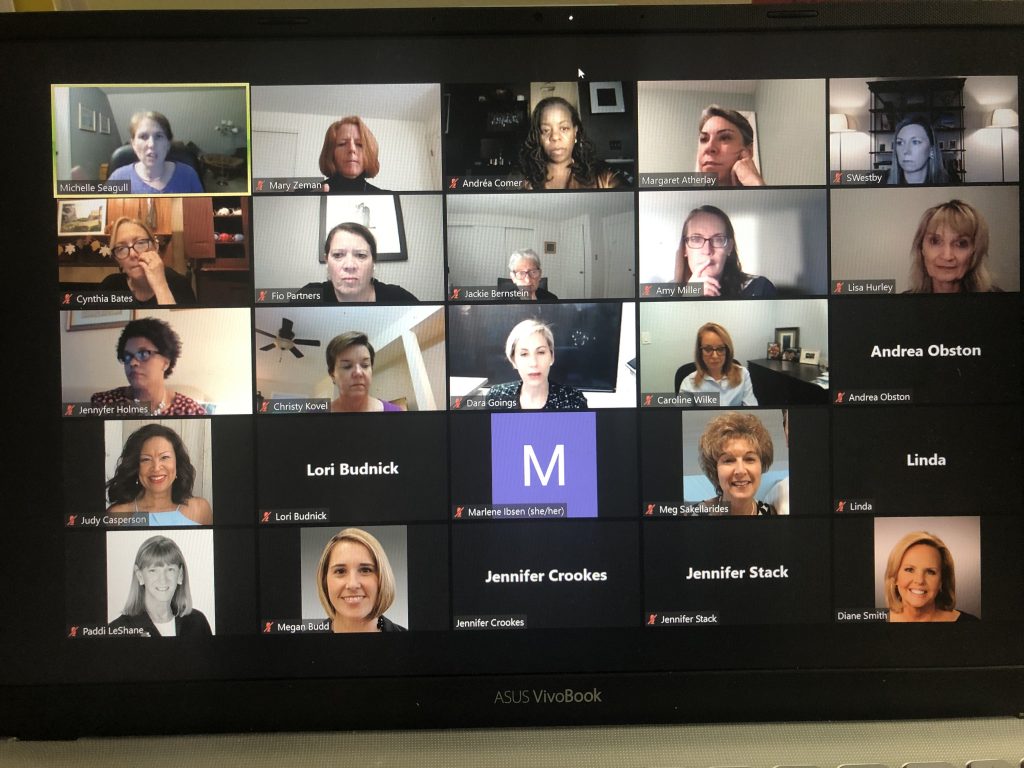 Andréa Comer, Deputy Commissioner, Department of Consumer Protection, and past CWC member. Andrea is a member of the Social Equity Council, which will develop programs to support the participation in the commercial marijuana business of individuals from communities disproportionately harmed by law enforcement of cannabis prohibition. Andrea is a former CWC member.
Sarah Westby, an attorney at Shipman & Goodwin and a founding member of Shipman's Cannabis team. Sarah will discuss her work advising clients on the formation and management of a cannabis business, and interpretation of state and federal cannabis laws. Sarah is a past CWC member.
Moderator – Peggy Atherlay, Chief Communications & Development Officer, YWCA Hartford Region and CWC member.

*********************************************************************
December
CWC Holiday Party & Annual Meeting
Bushnell Park Carousel, Hartford
CWC members enjoyed an evening in the spacious Bushnell Park Carousel, where they caught up with fellow members – in person! It was also a great opportunity to meet new members and congratulate CWC members who will be celebrating their 5, 10, 15 and 20-year anniversaries! Everyone enjoy ed delicious food catered by The Kitchen at Forge City Works. Becky McGuigan, their Interim Director, stopped by to talk about their organization and their mission.
There was a brief business meeting at 6:15pm when CWC members voted on new and renewing members of the Board of Directors.