New Member Spotlight – 2023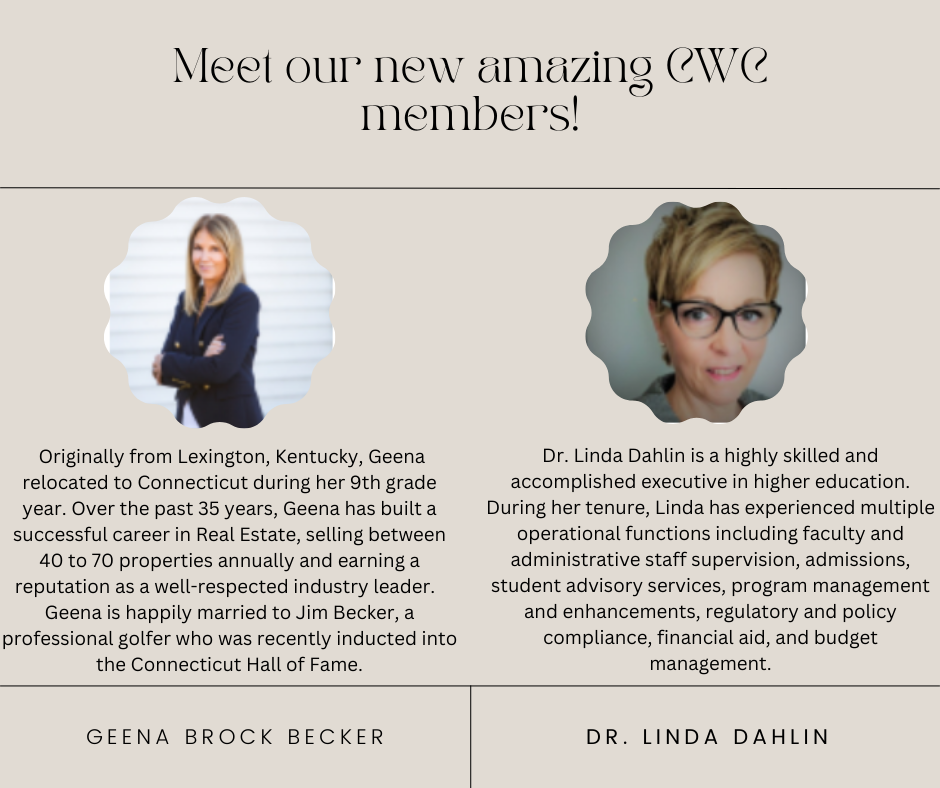 Member Spotlight – 2022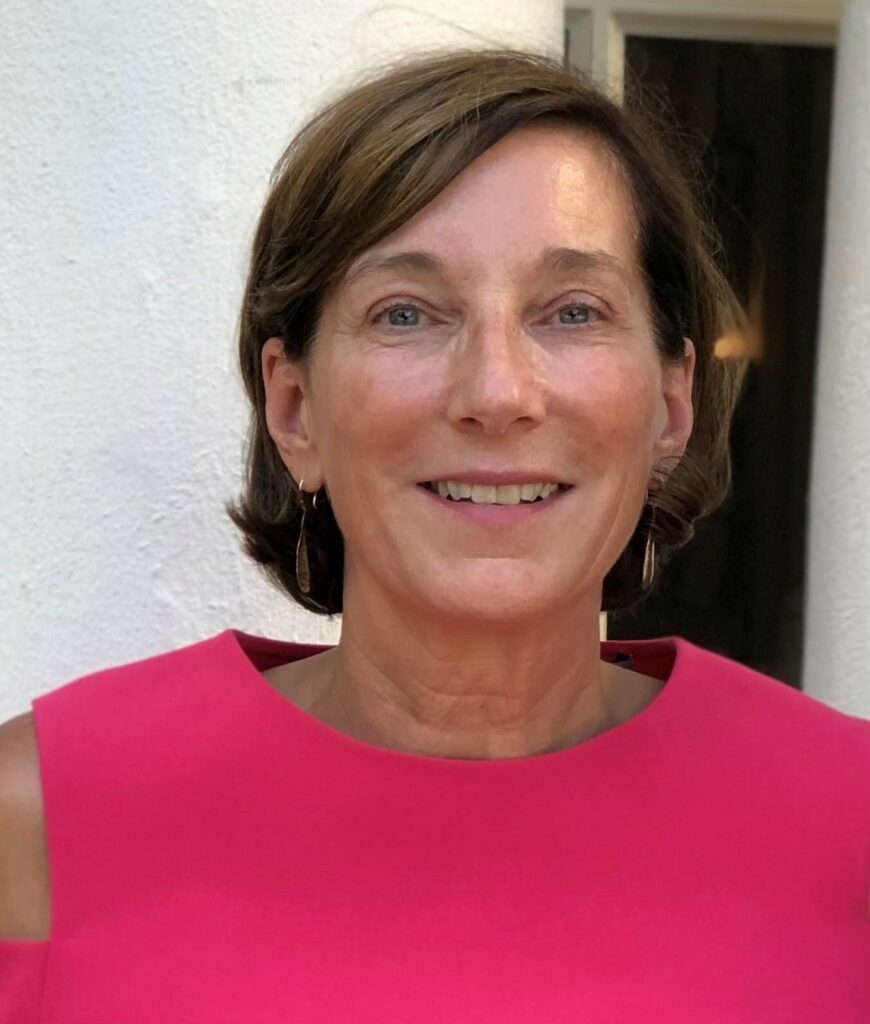 Christine Andrews
Principal, Andrews Benefits, LLC
Morning News Sources: Wall Street Journal
Hometown/Current town: Canton, CT/Farmington, CT
How long have you worked in your current position? 30 Years
Did you have a job that might surprise people? Sorry – No!
What do you value most about CWC? Connecting with other professional woman – this group is highly intelligent and so interesting!
Best piece of advice you've ever gotten? Bobby Jones – "There are no pictures on the scorecard."
Piece of advice for people entering your field / looking to excel in your field? It takes an enormous amount of energy and thick skin. If you have both you will love this business every day.
First Job in high school: Working for an orchard.
Dream Job (besides current): Working to save the environment – mostly the innocent animals that are becoming extinct each year. They all need help.
Bucket List Item: Seeing the Tour de France in person.
Hobbies (and any new ones started during pandemic): Skiing/Bike Riding
Favorite Restaurant (and items you recommend): Chamard Vineyard, Clinton, CT
TV Character most like you: Tony Soprano
Vacation Spot: Crested Butte, CO
Favorite Movie: A Star is Born (the original)
*************************
Karen Herbert
Co-Owner, BK&CO
Education: Rochester Institute of Technology ~ College of Business School of Retailing BA
Morning News Sources: MSNBC, BBC, The Daily.
Hometown/current town: Born in Syracuse NY. After college in 1981 I moved to NYC, to begin working at my first job out of college, Bloomingdale's. I was a buyer at G.Fox, CT in 1983 and got married to my college boyfriend ~ Charley Herbert. I opened a men's store in Avon with my high school/college best friend, Barbara, in 1986 and moved to West Hartford in 1995 and opened BK&CO.
Did you have a job that might surprise people: In high school I worked at a gas station, pumping gas and checking oil. I loved race day when the 'suped-up' cars would come in and get 'hi-test' – the gas was the most beautiful color fuchsia, and I really loved the big tips!
What do you value most about CWC? I enjoy the positive and inspiring community of CWC. I have totally embraced the book club and the interesting, enlightening conversations that each book brings.
Best piece of advice you have ever gotten? As I was leaving home for college my minister told me that 'Your life's work can be a ministry ~ you will figure out how to do that'. I did.
Piece of advice for people entering your field/looking to excel in your field? Owning a women's boutique is a business, not a hobby. The finance and 'business' aspect is as critical as the 'good taste' in fashion. And relationships with clients is truly what sets you apart from your competition. You have to embrace and love all elements owning your own store.
Proud moment or accomplishment you would like to share? The first time BK&CO won Best Of Hartford. We knew then that we were on top of the retail world in Hartford. I was most honored because I knew we had the support and appreciation of our clients, who became friends and loved BK&CO as much as we did.
First job in high school: My first retail job was working at Sears & Roebuck. I worked all over the store but the candy department was most fun!
Dream Job (besides current): I wrote a paper in 10th grade that I would own a store with my best friend. I do. We went to college together, and then Strawbridge & Clothier, and Bloomingdales together preparing for our store. So, I have my dream job. I am still dreaming of my next 'big thing', because I trust there is one!
Hobbies (and any new ones started during pandemic): I wake up most every day and read for an hour before I begin my day, I love to read and become the character, enter the place and follow the journey that the author brings to me. Equally, I love to golf. I love the beauty of the course, the camaraderie of the women and men and the competition of the game. I mostly thrive on beating myself!
Bucket List Item: I dream to own a spot that my girls and their families love to visit, on a lake or river. A place that is adventurous, beautifully landscaped, filled with lots of laughs, and heartfelt joy. A place where we gather for weeks of wonderful meals, hikes, games and special movies. A place where hugs and kisses are as natural and as beautiful as the outside view.
Vacation Spot: My favorite vacation spot is on a little lake in Wolfeboro, NH. A dear friend has built a stunning house on a lake that has the sun morning, noon and the most spectacular sunset. My girls grew up on that lake, our memories are fond. Maybe that is my dream to have for my growing family.
Favorite Movie: I love to go to the movies! I have learned to love watching movies at home. My favorite seems to be the last movie that 'I see'. I just watched CODA, fabulous! It was so beautiful on so many levels! However, the movie that I give away as a gift is "About Time" directed by Richard Curtis.
*************************
ICYMI – Check out the March Member Spotlight