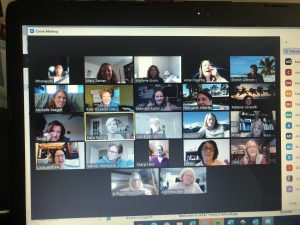 The Connecticut Women's Council (CWC) is a greater Hartford area membership organization that serves as a catalyst for diverse professional women to connect, collaborate and grow. We are an organization where women support women, build relationships and learn from one another at all stages of our professional journey. We do this by offering women opportunities to connect through interesting programs in unique settings and through informal opportunities for conversation.
As the cornonavirus continues to affect our daily lives, CWC has responded by first offering virtual programming only, but is now doing a mix of small outdoor programs and  virtual offerings to make sure CWC members have many opportunities to continue connect, support and learn from one another, with a few laughs always thrown in.
Our virtual programming has been varied, timely, thought-provoking and fun, including social hours, a panel on the state of the media in CT, a conversation with Secretary of State Denise Merrill, a cooking class by Cafe Louise, and conversations on recognizing dementia in the elderly and on personal growth.