2020 Programs
February
A Night at the Theater – Meet the Women Who Lead Hartford Stage
Hartford Stage is one of the many cultural gems in our community and one of the best regional theaters in America. We were thrilled to have an opportunity for CWC members to meet the new leadership behind this successful organization, Artistic Director Melia Bensussen and Managing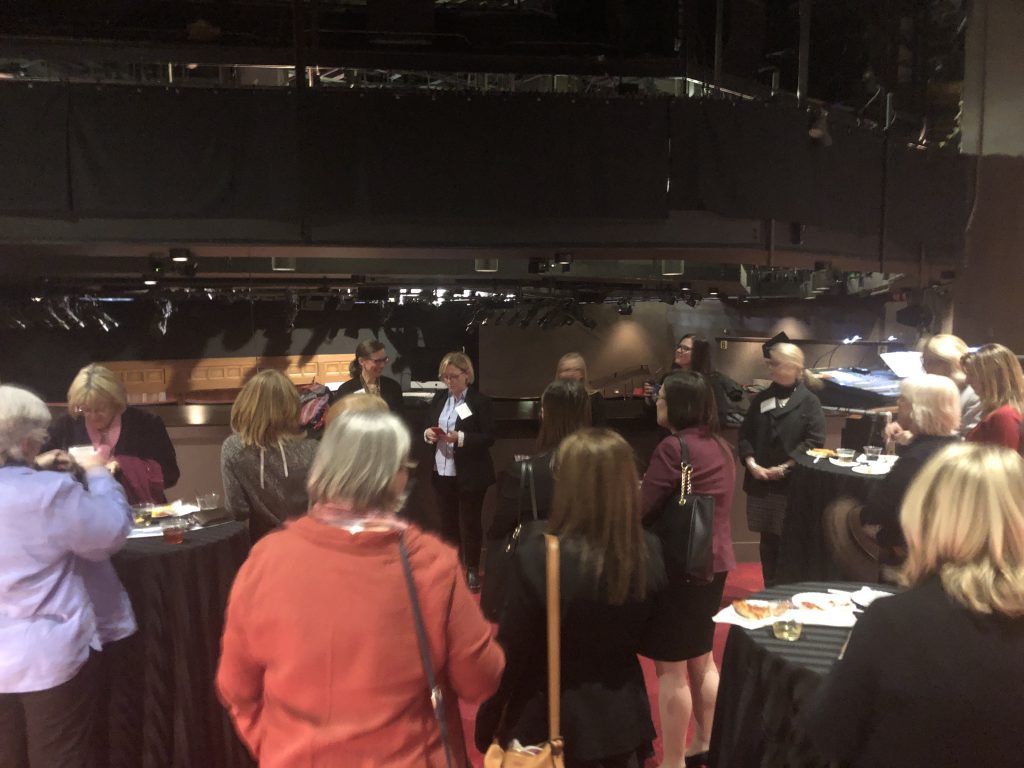 Director Cynthia Rider. Also joining us was Associate Artistic Director Elizabeth Williamson, who adapted Jane Eyre for the stage and will direct this new, original production of Charlotte Brontë's beloved novel. We heard from Cynthia about the vision for Hartford Stage's exciting new chapter and from Elizabeth about the craft of theater and this production in particular.

CWC Programs in a COVID-19 World
The Connecticut Women's Council had a robust program schedule in place when COVID-19 made in-person attendance unsafe. Like much of the world, we quickly adpated and moved our programming online, and, when safe to do so, added small outdoor gatherings starting at the end of July.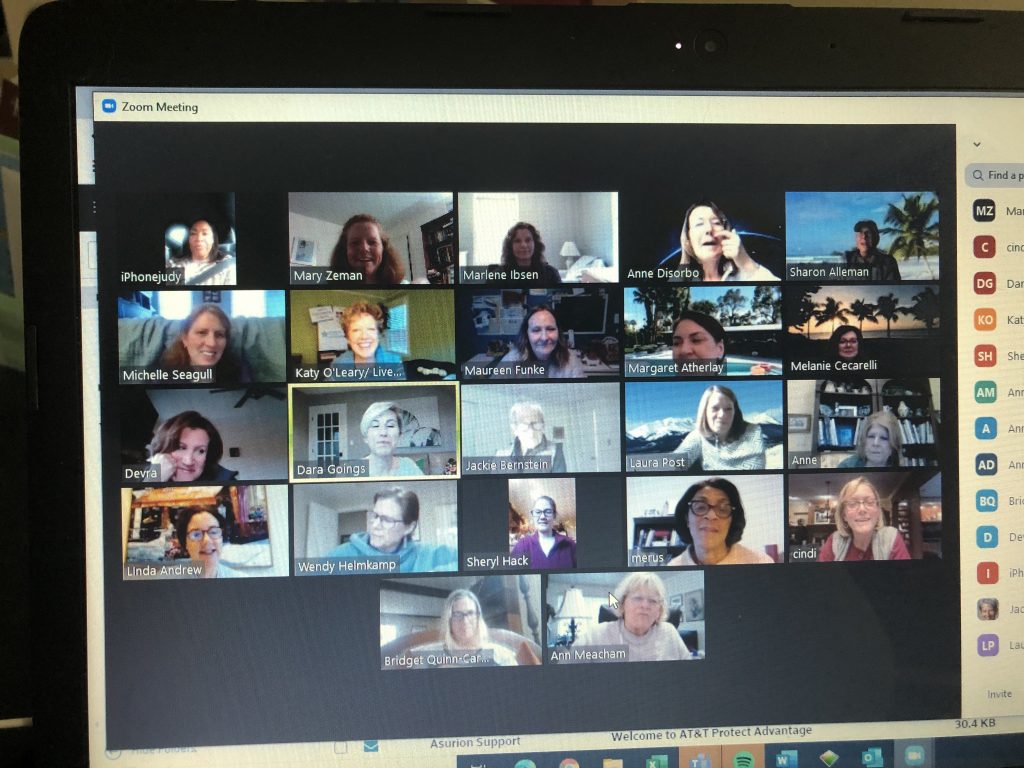 March-November
CWC Social Hour
In the beginning of the pandemic, CWC Social Hour was a time to say hello to members and see how they were doing. Occasionally, there are themes to the hour or trivia games, but we always make time for casual conversation and encourage members to join us when they can.

May
First Thursday: Two Ted Talks – Two Ways To Happiness
CWC members listened to two TED Talks on the topic of happiness, each only 12 minutes. Perfect to watch on work breaks. Conversation facilitators Ruth Kustoff and Amy Miller then asked members their take on the different approaches, what resonated with then and any takeaways they will use in their everyday life.
May
Virtual Panel Discussion
The Changing Media Landscape
How and where we get our news has changed remarkably in the past five years. The first two months of the pandemic have further changed the landscape, with heightened demand for information. Connecticut-based media organizations are rising to the challenges of long-term and short-term change, as they balance the falloff in revenue sources.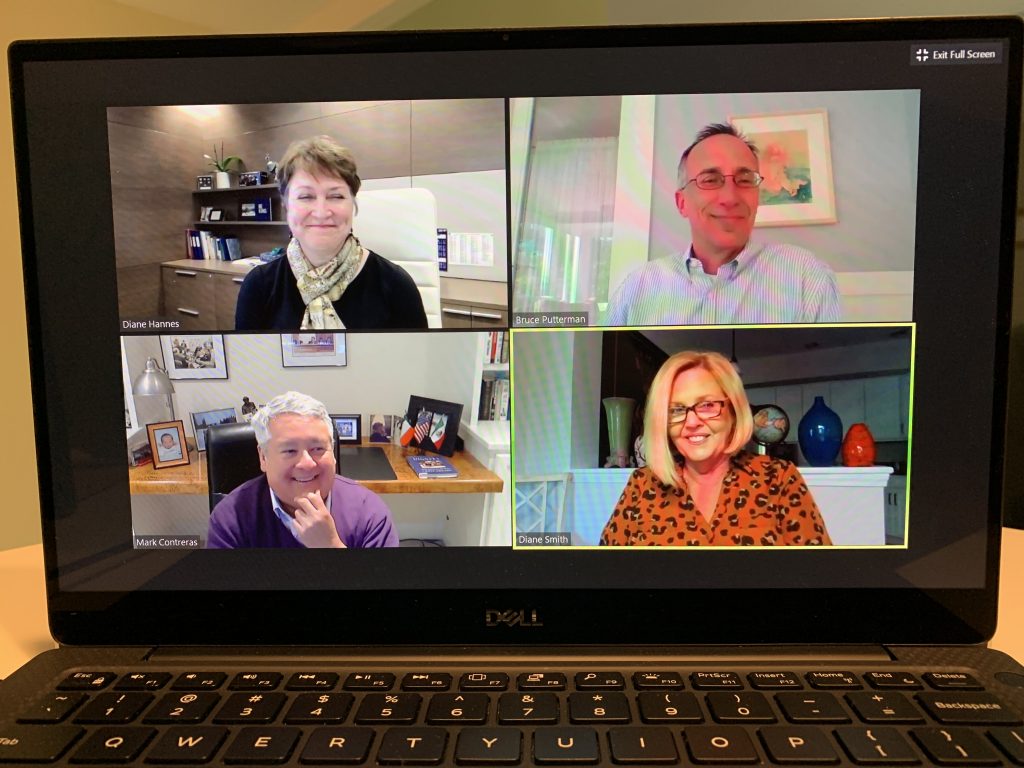 We were pleased to offer CWC members a virtual panel discussion on The Changing Media Landscape, with three local media leaders – Mark Contreras (CEO, Connecticut Public), Diane Hannes (President & GM, NBC Connecticut/Telemundo Connecticut) and Bruce Putterman (Publisher, The Connecticut Mirror). CWC members submitted questions during this lively and provocative webinar panel.
June
CWC First Thursday
Dementia Friend Information Session
This was a one-hour presentation to learn about dementia and how it affects people. CWC member Katy O'Leary directs a Dementia Friendly America community initiative for LiveWell in Southington, CT. Dementia Friends is a global movement designed to change the way people think, act, and talk about dementia.
June
An Evening with Cafe Louise – Cooking, Eating and Chatting
Many of you have enjoyed delicious fare from Café Louise, as she has catered many CWC events. Louise has been a CWC member since 2008 and has been at her New Britain Avenue location in Elmwood for 27 years. Passionate about great food, she has mainly been a catering business. but with Covid-19 she has temporarily switched to retail with curbside pickup or delivery and a "Meals To Go" program.
Via Zoom, Louise showed us how to make two of her "signature" chicken salads and two pasta salads – all perfect for the summer!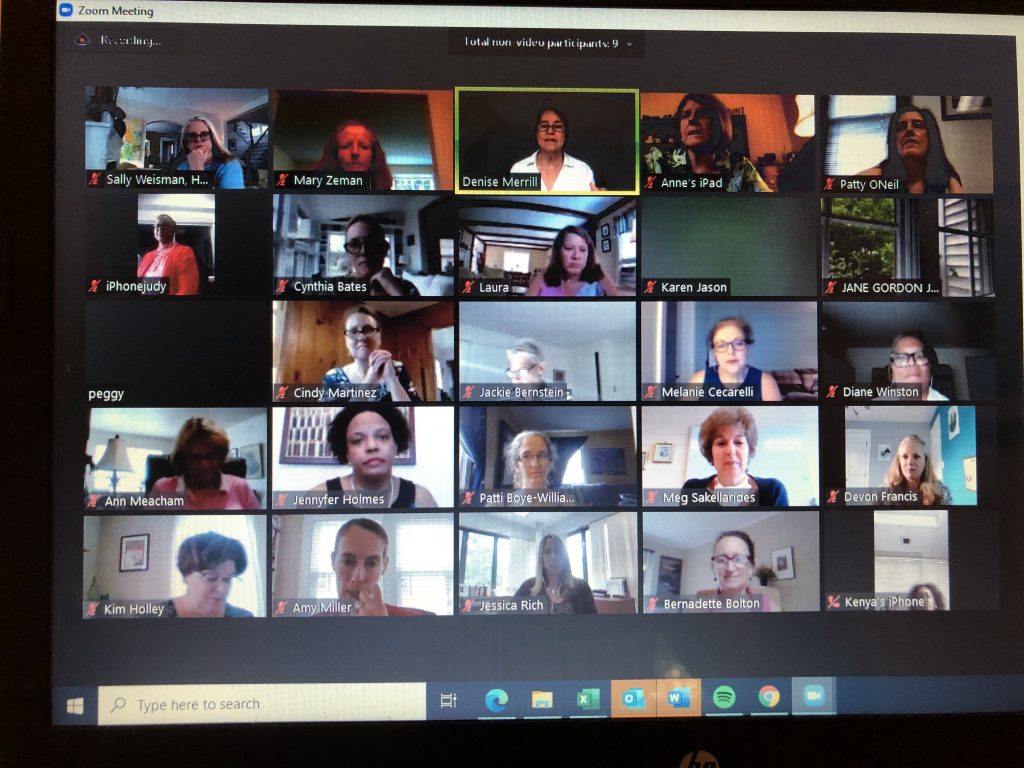 July
Voting in 2020 – A Conversation with Denise Merrill, Secretary of State
Voting is one of the most fundamental rights of citizens. Secretary of State Denise Merrill, Connecticut's chief election official, is responsible for ensuring that every citizen's rights and privileges are protected and that every vote is counted accurately. With the pandemic upsetting the traditional norms of voting in Connecticut, Secretary Merrill is championing No-Excuse Absentee Balloting and Early Voting. Attendees of this program learned what this meant for then and how their town is working to make sure your vote is counted, secure and (if voting in person) safe.
July
Talk & Tasting at Hog River Brewing Company
This is an ideal summer program, when we like to gather outside and have a beverage with friends. CWC members sampled four of their beers and also enjoyed a pint of their favorite one. Co-owner Joy Braddock joined us to talk about their beers and how she and her husband are navigating the pandemic and adjusting their business model.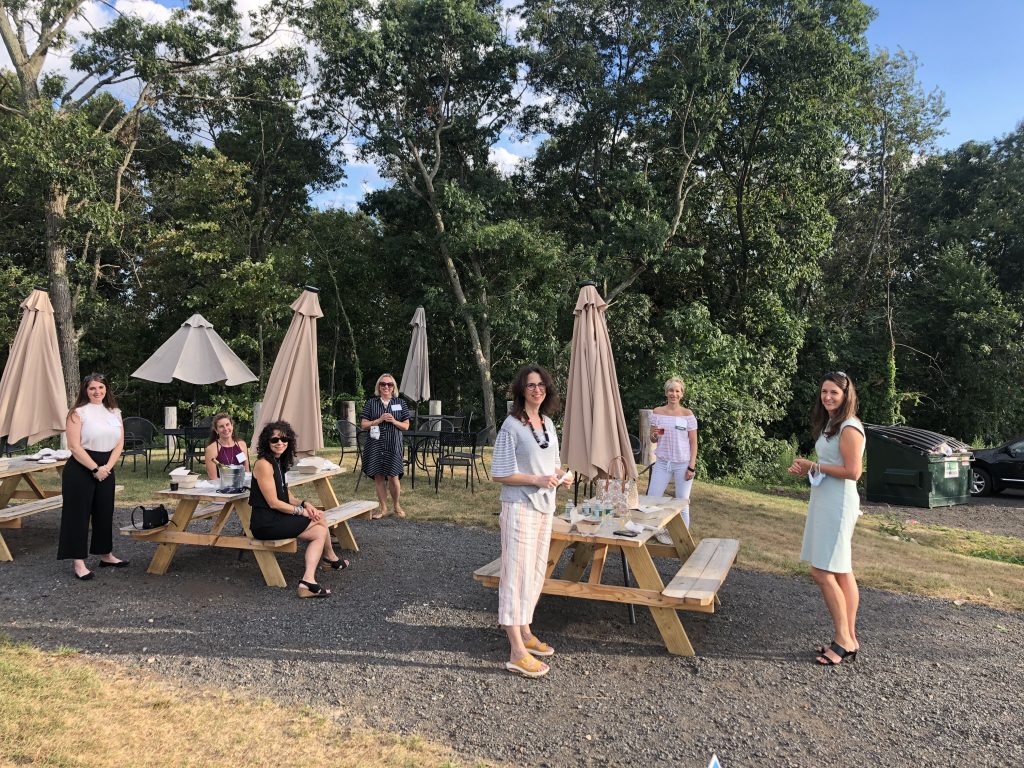 August
CWC @Crystal Ridge Winery
In July we enjoyed a local brewery, so for August we sampled wineat Crystal Ridge Winery in South Glastonbury caught up with fellow CWC members – all at a safe distance. There was ample outdoor seating with beautiful views. Members purchased the glass of wine they wanted to try and light fare was provided by Forge City Works and individually packaged for each person.
September
An Opportunity for Self-Care Practice of Gut Health and Yoga
Self-care has been a popular term the last few years, and it is more important than ever. We know how tired and stressed many of us are as we navigate our new schedules and our lack of socialization, so we planned an evening with CWC members (limited to 15) to give insight on some steps on how to focus on your needs.
Kathryn Giuffre is a certified health coach, gut health expert, and yoga and meditation teacher. She began with a 30-minute "gut talk" followed by a 45-minute yoga session. Kathryn offered a unique perspective on cultivating healthy digestion through a 3-step process that allows the body to come back into balance and where health goals can be achieved.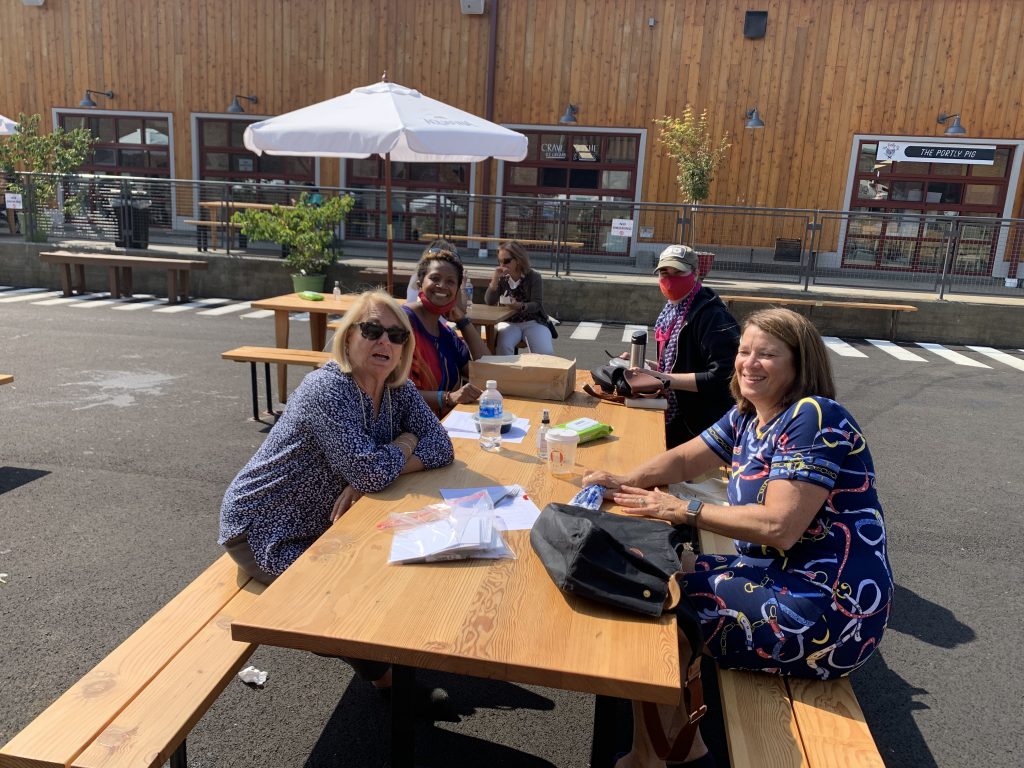 September
CWC Annual Member Lunch
Our Annual Member Appreciation Lunch is a fun way to celebrate our members and the continued success of the Connecticut Women's Council. This year, rather than one large group, we had 4 locations to meet for lunch, with 3 outdoors and 1 will be via Zoom.
This is a casual affair, and a great opportunity to take a break from work anjoy a lovely afternoon with some great women. There is a very brief informal speaking program at each lunch and, of course, our crowd-pleasing trivia contest!
October
The Harriet Beecher Stowe Center and CWC Present
Two Remarkable Events on Social Justice
– A Conversation with Albert Woodfox, Author of Solitary, winner of the 2020 Stowe Prize and Mayor Ras Baraka
– CWC Member Conversation, facilitated by Amy Hufnagel
Solitary is the unforgettable life story of Albert Woodfox, who spent four decades in solitary confinement for a crime he did not commit. Solitary was nominated for the Pulitzer Prize and the National Book Award.

Amy Hufnagel, Director of Programs and Visitors Experience at the Stowe Center, facilitated a virtual discussion for CWC members who previously watched the conversation between Albert Woodfox and Ras Baraka, mayor of Newark, NJ.
November
Holiday Cooking with Stella & Louise
As we look forward to the holiday season, let's talk about what we all love – food! We know many of you have been creating new dishes, and here are two to try from CWC member Louise Albin of Café Louise, and Stella Brown of Stella's African Eatery. 

Louise will be making a Sweet Potato Galette with puff pastry and Stella will be making Stella's Spicy Cranberries.  Upon registering, you will be given these recipes. You can make them ahead of time or make them with Stella (recorded and you can watch before November 17) or Louise (live on the 17th).  After Louise finishes her dish, we will do a Q&A session with Louise and Stella, who are happy to answer your culinary questions and to talk about their love of cooking and their holiday menus.  CWC board member Mechelle Olórtegui will moderate the conversation and get all your questions answered. 

This program is open to cooks and non-cooks!  I am sure Louise and Stella have wonderful dishes for all to order for your holiday meal.
December
CWC Holiday Party & Annual Meeting
The holiday season is almost here, and we hope you add CWC to your calendar!  Please join us to congratulate CWC members who will be celebrating their 5, 10, and 15-year anniversaries. During the brief meeting portion of the evening, CWC members will be voting on the slate of officers and electing and re-electing members of the Board of Directors.  The proposed slate will be sent to members in advance and posted on our website. Following the meeting, we will gather in small groups and talk about our favorite holiday traditions and stories.  And we would love to do a fun toast with all of you. When you register, please send me your favorite cocktail/mocktail recipe that I can share with the group.
We know this year is different and you are not running from party to party. And we know there is Zoom fatigue, but we give you no work assignments and offer a fun way to end your day. Hope you can join us!
December
CWC & TheaterWorks – Supporting the Arts in Two Parts
Part I – Watch Christmas on the Rocks (opening December 1)
Part II – A Conversation with playwright Jacques Lamarre
We have done several programs with TheaterWorks over the years, and we are happy to support such a valuable member of the Greater Hartford arts community again. In this two-part program you will:

– Watch Christmas on the Rocks – Billed as Connecticut's twisted holiday tradition, the play is set on Christmas Eve in a rundown local bar. Expecting a silent night, the bartender finds himself mixing drinks for a parade of surprising guests – children from your favorite Christmas specials and movies – now all grown up. Join them as they pour out their Christmas woes in this delightful parody. This play is filmed to stream on stage and if you do not have a membership with TheaterWorks, you can purchase a single stream (for 24 hours) for only $25.00.  Purchase your tickets here. The play opens on December 1, so you two weeks to watch it before…..

– A Conversation with Jacques Lamarre – Join us for a fun evening laughing about your favorite parts of Christmas on the Rocks with members and Jacques Lamarre, one of the playwrights.  Jacques will join us for part of the evening and will talk to us about this year's production and how TheaterWorks is continuing to deliver a full schedule of exceptional plays and events during this challenging time for arts organizations.