2019 P

rograms
January
CT Lottery Corporation– A Solid Bet for the State of Connecticut
CWC members got an inside look at the CT Lottery. CWC member Chelsea Turner, Interim Vice President at the CT Lottery Corporation, hosted members at the CT Lottery offices in Rocky Hill where they learned about the history of the organization, where the money goes and the organization's commitment to responsible gaming initiatives by addressing problem and underage gambling. Greg Smith, President and CEO, was there to welcome us.
The evening continued just down the road at Still Hill Brewery and Tap Room which recently opened and regularly offers 8-10 of their own beers, in addition to cider and wine. No program here, just time to relax, enjoy a craft beer and catch up with other members.
February
CWC Conversations – She Said What? Communication Styles and Strategies
CWC Conversations is a new program series which lets us gather in a small group to talk informally about an interesting or hot topic.
CWC member Carol Carson facilitated this discussion. How does the way you speak impact your world? What are some strategies, verbal and non-verbal, that you can adopt to make a difference in the workplace and beyond?
We had the discussion at Berkins on Oak, a new cafe that serves breakfast and lunch. "Conversations" are easy, quick and informal – a chance to meet other members, stimulate your brain and enjoy some lively conversation.
March
An Evening at the New Britain Museum of American Art: Exploring the Georgia O'Keeffe Exhibit
CWC provided an exclusive member program, arranged by New Britain Museum of American Art's Deputy Director and CWC member, Michelle Hargrave.
A founding figure of American modernism, Georgia O'Keeffe (1887–1986) is one of the preeminent and beloved artists of the twentieth century. CWC members had docent-led tours of The Beyond: Georgia O'Keeffe and Contemporary Art.
The New Britain Museum of American Art was the only northeast venue for the exhibition. The museum was founded 1903, making it the first museum of strictly American art in the nation.
May
Oh, the Places You'll Go* – Technology & Innovation in Downtown Hartford
*with apologies to Dr Seuss
Have you wondered what an accelerator, incubator, co-working space, maker space, and social enterprise is? In the past 2 years, over 6 locations have come online in Hartford with more planned soon. CWC members learned about how these concepts are revolutionizing how we work and how others are advancing in various industries. Members visited:
Upward Hartford (20 Church Street)
The Stanley Technology Center (Constitution Plaza)
MakerspaceCT (960 Main Street)
It was an easy five-minute walk to each place. After the talk and tour, CWC members enjoyed a reception at City Steam, just steps away. As always there was time for members to connect.
July
Private Gallery Talk at the Wadsworth Athenuem
Vincent Van Gogh's Vase with Poppies
A painting owned by the Wadsworth Atheneum was recently been authenticated as a work by Dutch master Vincent Van Gogh. Vase with Poppies is currently on display and CWC members enjoyed a private gallery talk with Oliver Tostmann, the Susan Morse Hilles Curator of European Art at the Wadsworth Atheneum. Oliver spoke about the history of the painting and the process of authentication and took questions from members.
Following the talk, CWC members explored the rest of the gallery until the reception began in the outside courtyard.
September
Peek Behind the Scenes at TheaterWorks
TheaterWorks is a true gem in the Hartford arts community. This non-profit professional theater company produces high quality, contemporary theater and presents approximately 225 performances per season, with an annual audience of over 40,000.
Founded in 1985, TheaterWorks just completed a full-scale $6 million renovation of its stage area, lobby and even the restrooms. CWC members took an exclusive tour before the new season opened and saw all the changes made in this historic Art Deco building that was built in 1927. Following the tour, members crossed the street to bin228 Panini & Wine Bar for a reception.
October
CWC Conversations – The Power of Personal Storytelling
CWC Conversations is a program series which will let us gather in a small group to talk informally about an interesting or hot topic.
This CWC Conversations is focused on the art of storytelling. Storyteller Terry Wolfisch Cole is the founder and producer of Tell Me Another: Ordinary Lives, Extraordinary Stories, a storytelling show in the Hartford area. She shared the tale of her journey to the stage, told the story that started it all, and offered some tips that members can use to make your stories more compelling in any context.
November
CWC Member Social – Relaxing After Work…At Work
Before the holiday frenzy started, members had the opportunity to relax and catch up with CWC friends and introduce yourself to members you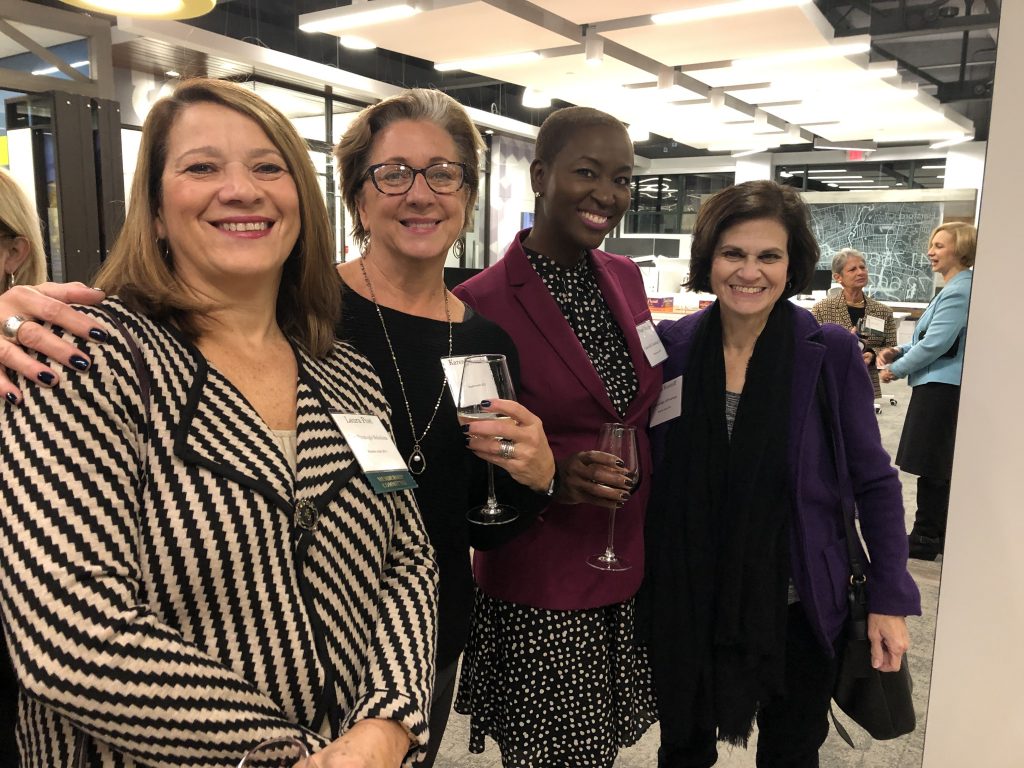 have never met.  Maureen Funke hosted at her beautiful office space at Greenbox, located in the heart of the Colt Gateway complex, a unique mix of 10 buildings with businesses, apartments, schools and restaurants. And to help our membership recruiting efforts, members brought friends with who were interested in joining CWC. 
December
CWC Holiday Party & Annual Meeting
The CWC Holiday Party is an evening of lively conversation and an opportunity to congratulate CWC members who celebrated their 5, 10, 15 and 20-year anniversaries! During the brief meeting portion of the evening, CWC members voted on the slate of officers and the new and renewing members of the Board of Directors.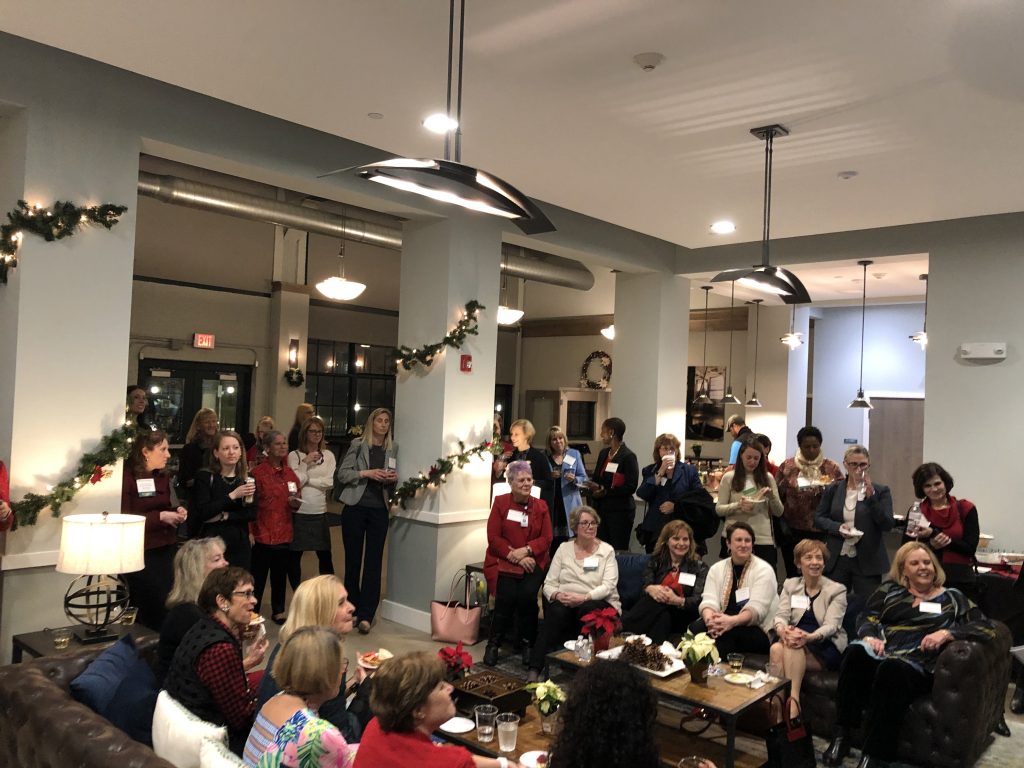 This CWC Holiday Party was at the Capewell Lofts, a 72-unit rental property. Before this transformation, the building was home to Capewell Horse Nail Factory, which opened in 1881. The current building is an innovative treasure, built to Gold LEED standards, a certification created by the US Green Building Council which encourages sustainable buildings and practices.